New Extreme Temperature Valves Ideal for Challenging Applications like Moving Specialty Gases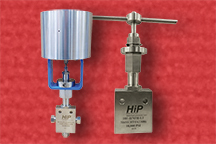 Erie, PA - September 2, 2016 - High Pressure Equipment Company has developed a line of standard and custom valves and fittings specifically designed for cryogenic and extreme heat environments. For these applications, HiP uses an extended stuffing box design with fins provided around the packing area to move packing away from cold or hot zones and dissipate the heat or cold for safe and reliable operation.
Standard and custom extreme temperature valves are available in manual and air operated configurations for pressures from 10,000 to 30,000 psi. These valves use coned-and-threaded connections to provide extra dependability and are available in special materials such as Monel and Hastelloy.
Gases like nitrogen, argon, and hydrogen present unique challenges that demand special gas handling components, like HiP's extreme temperature valves. These gases are used in a wide range of applications including compressed gas fill plants, cryogenic test benches, cryogenic vaporizers, cryogenic pumps, fuel cell systems, fueling stations, and many others.

About High Pressure Equipment Co.:

High Pressure Equipment Company, a Graco Company, is one of the world's leading manufacturers of specialized valves, fittings, tubing, accessories, reactors and customized products with pressure ratings up to 150,000 p.s.i. The company has particular expertise with specialty metals Hastelloy, Inconel, Monel, and titanium. End-use applications include oil and gas exploration, topside and subsea production and test equipment, waterjet cutting and blasting, chemical, industrial gas, research and many more. High Pressure was founded in 1954 in Erie, Pennsylvania, where it remains today. For more information, please visit www.HighPressure.com
For more information, contact:
High Pressure Equipment Company
2955 West 17th Street
Erie, PA, 16505
Phone: 1-800-289-7447
Fax: 814-838-6075
E-mail: sales@highpressure.com

www.HighPressure.com

-or-

Tim Glass
Altman-Hall Associates
235 W. 7th Street
Erie, PA 16501
Phone: 814-454-0158

www.Altman-Hall.com