News
Graco Named A Best Workplace in Manufacturing and Production by Fortune Magazine
Last August, Graco participated in the Great Place To Work survey, and our employees were selected at random to provide feedback. Now, the results are in, and Graco has been named one of the 2016 Best Workplaces in Manufacturing and Production, according to Fortune Magazine!
"This recognition is something we can all be proud of - it's a testament to your commitment to building and maintaining a positive workplace here at Graco. Engaged and committed employees give us a crucial competitive advantage, and create long-term value for employees, distributors, suppliers, end users, shareholders and the community," said Pat McHale. "While making the list is good news, we also have many areas where we can improve. We will be looking closely at your feedback for those continuous improvement opportunities, and with your help we will strive to make Graco better every day."
Graco ranked No. 10 on the list, a ranking based on employee assessments of the trust felt toward Graco's leaders, the pride they take in their jobs and the camaraderie they experience with coworkers. Out of the employees surveyed around the world, 97% expressed great pride in Graco! The top workplaces as a collective group for 2016 have a turnover average of 7.2%, about half the national industry average of 13%. Graco's turnover over the past year was just 4%!
"The challenge and variety of work makes it a very interesting place to work. I've continually seen new innovative ideas in design, manufacturing and management over the last six years and I expect that will continue," said one Graco employee in the anonymous survey. "There is a vast knowledge base here and everyone is willing to share their knowledge and experience whenever needed."
These strong results are a tribute to our excellent global workforce. In fact, 90% of participating employees reported experiencing a great place to work at Graco! See the chart below for more highlights from the survey: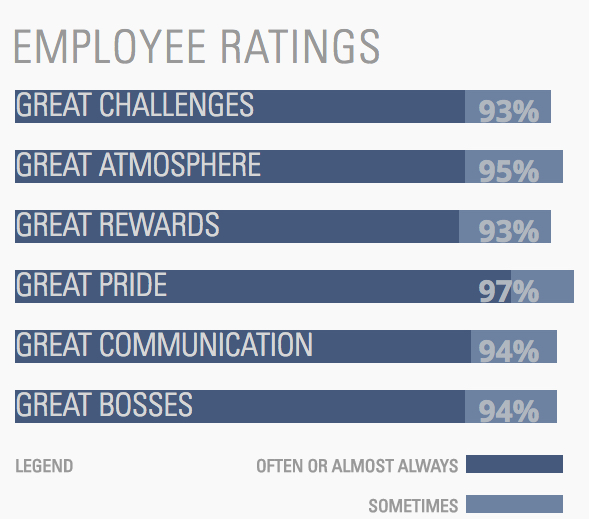 Thank you again to those who took the time to complete the survey, and thank you to all who make Graco a great place to work every day! This recognition will be celebrated worldwide with a "Graco is a Great Place to Work Day" on April 28, 2016. Refreshments will be served in your local break rooms.
Read the Great Place to Work review and Fortune Magazine article for more information, and share a link to this story on Newsline with your friends and family!